10 YEAR-OLD ENTREPRENEUR LAUNCHES CARD GAME ON-STAGE AT GDC IN SAN FRANCISCO, CA
Irvine, CA – Ethan Erickson, gamer and entrepreneur, launched his Kickstarter campaign to turn his flight-of-fancy into card gaming reality on March 15th, 2016.
Why is this important?
Ethan is only 10 years old.
He announced the launch of Magicka Mayhem: The Card Game (based upon the popular video game, Magicka) on-stage at GDC in San Francisco, CA – the world's largest professionals-only Game Development Conference.
Beginning as a creative diversion during those "dark hours when mom and dad wouldn't let me play on my iPad", the 4th grade Cub Scout from Irvine, CA invented his own fun using mismatched scraps of paper and a dull pencil. Much to his mother's delight, Ethan soon found himself spending more time playing his new game, Magicka Mayhem: The Card Game, with his family and friends than he once did tapping and swiping on his beloved digital device.

Ethan based his new game on one of his favorite computer games, Magicka – a wildly successful indie game that has since spawned multiple sequels and dozens of expansion packs. He made every effort to stay true to Magicka's easy-to-play, unpredictable and – at times – outrageously funny game design.
The gameplay ranges from highly strategic (in the form of combing Elements to cast Spells) to downright silly (yes, you will find a few instances of potty humor!) allowing it to be enjoyed by all members of the family including Ethan's mother, Daley, his father, Ken, and even his younger sister, Avery.
In fact the 'Mayhem' in Magicka Mayhem gets its name from the cards that introduce random – sometimes silly and often hilarious – effects that can cause a Spell to, as Ethan describes, "blow up in your face, save your butt from disaster or make you pee your pants with laughter."
Ethan's card gaming creation soon became a staple form of entertainment for the Erickson family, but not in the way one might think.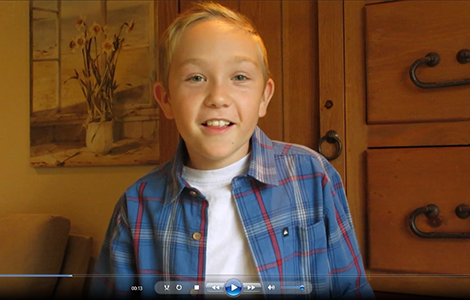 From Shark to Spark
Inspired in large part by the start-up success stories featured on the ABC show Shark Tank, the Erickson Family found themselves wiling away their evening hours tweaking the gameplay, designing the look of the cards and "planning a marketing strategy to ensure card-gaming world domination". Ethan's 7 year-old sister has even suggested several designs for 'Magicka Mayhem plushies' which she plans to launch with her own Kickstarter in the near future.
A Permission 'Paradox'
Ethan Erickson's dreams of business success were nearly dashed early on when his father, Ken, explained that they would need permission before getting Magicka Mayhem into stores or into the hands of gamers. Their research led them to discover that the rights to Magicka were held by a large game publisher, Paradox Interactive, in the far-flung and seemingly forbidding country of Sweden.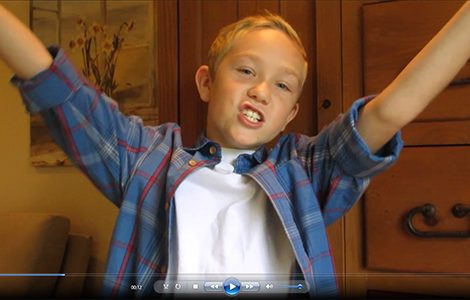 Ethan needed a way to stand out from the "hundreds of unsolicited game pitches" that Paradox Interactive received each month. Ethan's mother, Daley, suggested that a video 'pitch' might cut through the clutter. Following the suggestion, Ethan disappeared into his room with his favorite 'idea book' – a Star Wars-themed notebook that he had received as a gift – to write the script for the video. In less than 20 minutes Ethan re-emerged with a written a script that required only a few lines of editing.
The 'pitch' video was filmed in three takes, edited and sent off to the Paradox Interactive inbox the very same day. Ethan quips that, "if you listen real close you can hear my mom and my sister watching a movie downstairs. Some girl movie."
Ethan's father – seeing this entire process as a great learning experience in perseverance and "stick-to-itiveness" – warned Ethan that it would likely take several failed attempts and a great deal of effort before garnering any kind of response from the gaming behemoth. Ethan responded in his characteristically confident way, "No. I'm pretty sure we'll hear back from them in a couple days. After all, it's a really good game."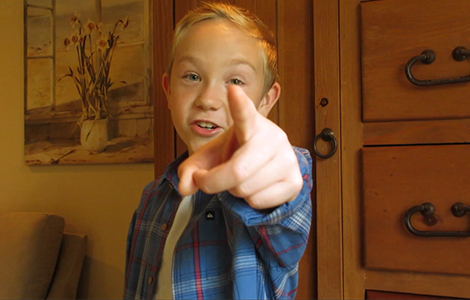 Lo and behold – and much to his father's chagrin – they received an email response just a few days after their initial pitch video was sent out. Not only did they receive a response, but the response came from none other than the Vice President of Acquisitions. Ethan recalls, "I didn't know what an 'acquisitions' was, but my dad said it was a pretty big deal. I told him 'sure', but the really big deal would be if the CEO emailed instead."
It wasn't long before 'Team Erickson' (that the family was now branding themselves as) received the permission they were seeking to finish Magicka Mayhem and present it to the world using the famed crowdsourcing website Kickstarter.com.
When asked about the next step in his wild entrepreneurial adventure, Ethan responds, "I am excited to see the game that I created being plays by lots of people."